Back in May, The Acadian was commissioned to create a bespoke version of The Stogie, our cigar style pen embedded with a real cigar band over cocobolo wood. The buyer wanted a truly unique gift for her husband, who is a cigar aficionado. I was happy to step up to the task. 
After a short call with the recipient, and waiting a few days for the label to arrive, I was excited to get started on this pen. The cigar band was from his own collection, the Padron Serie 1926 40 year anniversary cigar. These cigars are not necessarily rare, but they certainly are hard to come by, and are much sought after by cigar fans. 
When the cigar band arrived, I was surprised to learn that there are actually three bands: The main band, that contains the company logo; a secondary band with a serial number, that rests partially underneath the logo band; and a third band that gets placed a few millimeters underneath the other two. 
Because of the unique setup of these bands, I had a big challenge ahead of me. I spent some time looking over how I would attach the bands while keeping them straight and properly aligned. I settled on applying spray adhesive to the two bands that get sandwiched together, then letting them dry. Then I applied more adhesive, and affixed them both to the upper barrel of the pen. Finally, I applied adhesive to the lower band and affixed that one to the lower barrel. This thing was starting to look good!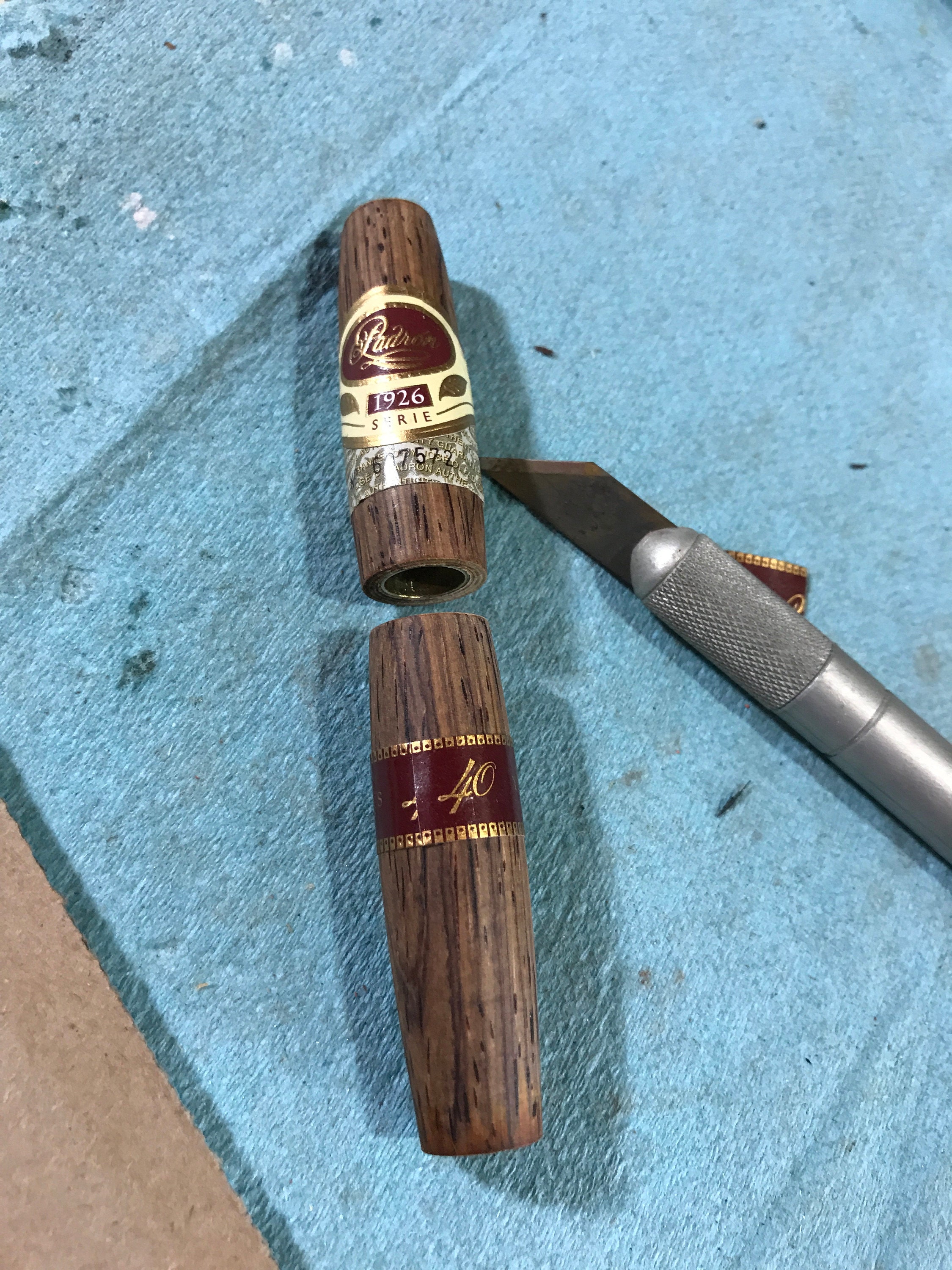 But here's where I ran into a problem: because the upper bands are sandwiched together, they create a thicker band. That means I had to apply several more coats of finish to the pen so that I could keep it level and bump free. I lined the bands with some CA glue, then applied my first several coats over the entire pen. Then it was a matter of building up coats to make a level finish. It took more than 15 coats to get everything even, including a few extra lines around the bands themselves. Finally, I sanded and polished the pen, starting with 120 grit sandpaper, and ending up at 12,000 grit micromesh pads. A final hand polish, and the pen was complete. 
I love how the grain of these woods magically pops when I apply finish. It's probably my favorite part of the woodworking process. While this custom cigar pen was a challenge, it was amazingly fun to make, and I can't wait to do another. 
Lee Bernstein on Jun 7, 2017
5 out of 5 stars    
I cannot recommend this seller highly enough. His dedication and customer service is outstanding, and the craftsmanship he puts into his work is true artistry--way above and beyond other custom cigar pens out there.